Teams and Walkers
Select A Team:

2017 MashUp Pros

The 2017 MashUp will feature world-class players in both the squash and the paddle tennis competitions. Stay tuned for updates.

Right now, we are excited to announce that this year's pros will include:

SQUASH


WAEL EL HINDI enjoyed a highly successful career on the PSA World Tour as well as several championship efforts for Egypt in the World Team Championships (Gold in 2009 and Silver in 2005). El Hindi has long been regarded as one of Egypt's most talented players – first making his mark in the USA in 1998 when he reached the final of the World Junior Championship as a 5/8 seed. He bookended that success in the USA by capturing his only major professional title at the 2010 US Open in Chicago. Steady results on the Tour saw the often sleeveless and clamdigger-clad showman achieve a career best ranking of World No. 8 in November 2008. The 35-year-old is originally from Giza, but now resides in New York City where he is a private coach.


ARTHUR GASKIN is the only elite pro in the 2017 MashUp currently still competing on the PSA World Tour. The 32-year-old Irish star enjoys a current ranking of #137, but reached a career high of #80 back in 2009. So far in his playing career, he has won three PSA World Tour titles, reached 14 finals and represented Ireland in more than 20 international team tournaments.

SHAHID ZAMAN KHAN is the Head Squash Professional at the Tennis & Racquet Club in Boston. The 37-year-old was born in Quetta, Pakistan and comes from a famous squash family. His uncle Qamar Zaman won the British Open in 1975 and his cousin Jahangir Khan won the World Championship six times and is arguably the greatest squash player of all time.

Shahid won a total of eight PSA World Tour titles and reached a career best world ranking of #14 in July of 2005. He won the Pakistan National Championships from 2001-2006.
THIERRY LINCOU reached World No. 1 in January 2004 and later won the 2004 World Open in Doha, Qatar to cement his remarkable rise as France's best-ever professional squash player to date. While ceding that honor in recent years to compatriot Gregory Gaultier, Lincou has demonstrated notable professional longevity by joining with Gaultier and other teammates to win the Bronze Medal in the 2013 World Team Championships. Lincou, known to date as one of the fittest players ever to play the sport, resides in Natick with his wife and 2 daughters and is Director of Squash at the Massachusetts Institute of Technology.

PADDLE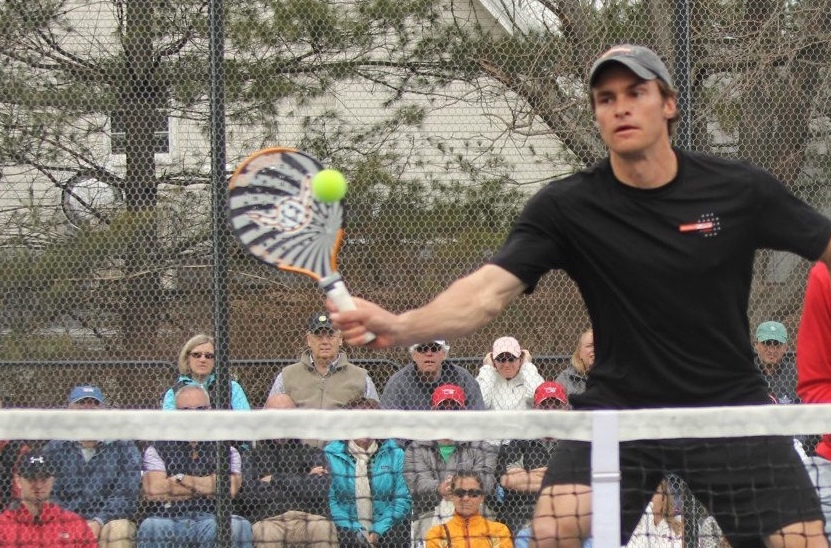 JOHAN DU RANDT is a 3-time National Champion and considered by many to be one of the best players of the modern era. He has been ranked #1 several years and remarkably, has reached the finals of the National Championships 6 times since 2011. He is currently the Director of Racquets at The Country Club of Brookline.


BILL ANDERSON is a former National Champion who enjoyed a nearly two decade run ranked in the Top 20 nationally and one of the best players New England has ever produced. Bill played #1 Singles and Doubles for Babson College.



SCOTT STANIAR is a former #1 nationally ranked player and 5- time national singles champion, and PPTA Professional. He played #1 Singles and Doubles for Yale University, where he earned All-Ivy and All-East honors.


THOMAS NOLAN is a nationally ranked platform tennis player and former college tennis standout from Boston College; where he played #1 Singles and #1 Doubles for 3 years. Thomas is a certified platform tennis professional at The Braeburn Country Club.


ADAM GART is one of the rising stars on the National Platform tennis circuit; former ranked #18 nationally and winner of the Milwaukee National Open. Adam was a standout D1 tennis player and 2-time national doubles tennis champion, winning The National Grasscourts in Newport in 2010 and 2011.


GENIUS CHIDZIKWE is a nationally ranked player, PPTA Professional and former Davis Cup professional tennis player from Zimbabwe. He was a former NCAA #1 ranked player in the U.S. and now serves as the Director of Racquets at The Weston Golf Club, MA.


BILL POWER is a former #1 ranked paddle player in New England and standout athlete; playing #1 Singles and Doubles at Boston College, where he won the Big East Championship. He was also recruited as a QB for the BC Eagles football team.

KARL GREGOR is a rising nationally ranked platform player and one of the top players in New England. Karl is a former ATP Professional tennis player and college standout at the Air Force Academy; where he served in the military four years following graduation.